Linda Joyce Ott
(LindaJoyceOtt)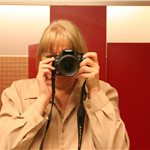 Linda Joyce Ott is an author and award-winning multi-disciplinary artist working in photography, painting, collage and assemblage. Her studio is located in Hamilton, Ontario, Canada.
Linda's art and photos have been exhibited in solo and group shows in Hamilton, Toronto and Alberta, including the Female Eye Film Festival, Artists Inc, Centre 3 for Print and Media Arts, McMaster Innovation Park, the Toronto Outdoors Art Exhibition, Hugh's Room and Visual Arts Ontario.
Her photographs have been published in Art Focus, Photo Life, and Camera Canada magazines, and in The Hamilton Spectator.
To see her art and photography, visit her website at or her blog at
To see Linda's videos, check out her YouTube channel at